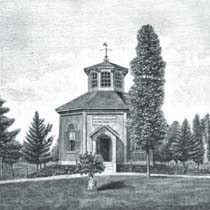 The Goodnow Library, c1888

Etching by J. S. Conant, from Alfred S. Hudson, History of Sudbury, 1889
Research
Our Collections
Harry Rice Native American Collection
George Moore Civil War Collection
Hattie J. Goodnow Photographs Collection
Doing Research at SHS
Links and Resources
Our Collections
The Sudbury Historical Society's collections include material from the earliest days of the Sudbury Plantation continuing to the major expansion of the town in the 1960's. Some of our recent acquisitions are described below. Some detail on some of our special collections can be found using the navigation links on the page.
Isaac Maynard's Brass Step-down Bullet and Shot Mold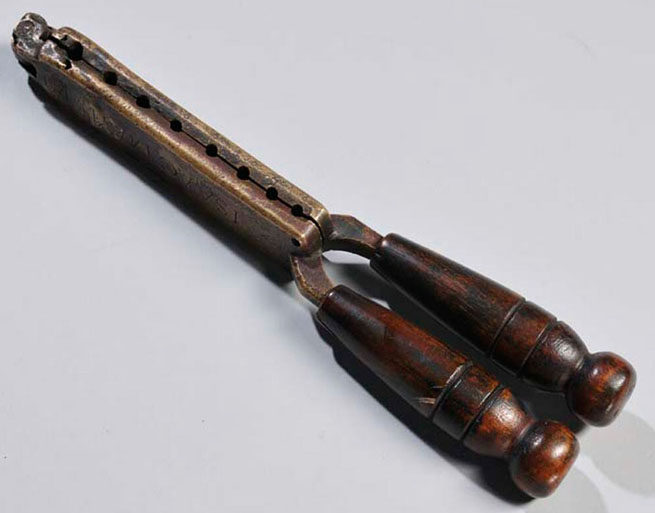 Brass mold marked on one side "ISAAC MAYNARD" and on the other "SUDBURY 1777". The inside of the mold has cavities for casting small shot through musket-size ball, edges of mold marked with the weight of each ball per hundred. Handles are made of cherry wood. Overall length of mold 11 3/4 inches.
Isaac Maynard was born October 27, 1747 in Sudbury, Massachusetts. He is listed on the rolls of Captain John Nixon's company of Minutemen in 1775, as well as Captain Asahel Wheeler's company rolls. Maynard died June 25, 1797. Among the many items listed in the probate inventory of his personal estate taken after his death is "Gun & Bayonett 10/, Bullett and Shott moulds 1/" (Middlesex County, Massachusetts Probate File Papers, 1648-1871, Case No. 14842, p. 1220). Maynard is buried in the Old Revolutionary Cemetery in Sudbury, Massachusetts.