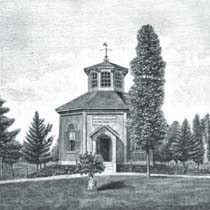 The Goodnow Library, c1888

Etching by J. S. Conant, from Alfred S. Hudson, History of Sudbury, 1889
Research
Our Collections
Online Collections Database
Harry Rice Native American Collection
George Moore Civil War Collection
Hattie J. Goodnow Photographs Collection
Doing Research at SHS
Links and Resources
Harry Rice Native American Collection
Who was this man who donated a collection of Native American objects and a large sum of money to Sudbury? The donation was designated the Harry C. Rice Museum Fund in 1979, not long after the death of 75 year old Harry Clinton Rice in November 1978. Harry was the son of Charles W. Rice, a local farmer who lived on the family farm on Water Row. The Rice family claimed ties to Edmund Rice, an early arrival from England to this country. The 1900 property evaluation of the farm included 6 horses, a bull, 7 yearlings, 900 fowls, a swine, and more.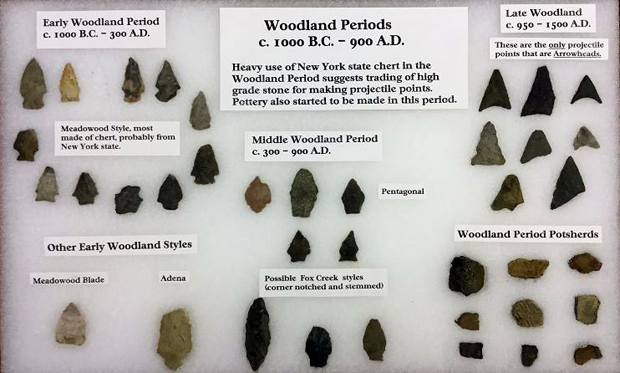 One might wonder how Harry got involved in digging up Native American artifacts. Was this at the time when, according to Curtis Garfield, "…while digging a new cesspool" he had discovered a large collection of artifacts?" Whatever the initial motivation was, Harry's interest in Native American material demonstrated a thorough knowledge of our understanding of Native American culture in Eastern Massachusetts at the time. He worked with archaeologists from Harvard University and the Massachusetts Archaeology Society (who conducted an excavation near the Sudbury River) and encouraged an interest in archaeology among Sudbury's youth.
Harry's collection is now maintained by the Sudbury Historical Society as designated in Rice's will. It contains chipped axes, pestles, gouge bits, pounding stones, and a number of chert artifacts, chert being a mineral found not only in this area, but in parts of New York. The collection was inventoried in 1981 and included projectile points and two arrow shafts that were reportedly found in the wall of Mr. Rice's house." A thorough report by archaeologist Shirley Blancke in 2000 further identifies and documents the collection.
Sudbury's is rich in Native American material remains both in the Sudbury River floodplain where most of Harry's artifacts are from and in the higher ground such as the area around Green Hill and Nobscot Mountain. Hudson's History of Sudbury contains numerous references to Native American remains located throughout the town. Archaeological excavations have been conducted near the Sudbury River (off of Concord Road) in the 1940's and more recently in the Assabet River National Wildlife Refuge.