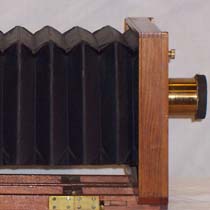 Hattie Goodnow's Putnam Marvel 5x8 Plate Camera, c1895

Sudbury Historical Society Collection
Virtual Sudbury
Talking Tour of Sudbury
Driving Tour of Sudbury
Voices of Sudbury
Online Exhibits
Video Programs
Newsletters
Online Exhibits
The Sudbury Historical Society has rotating exhibits in our galleries. If you can't make it to our History Center, you can catch up on our rotating exhibits here.
Click on an image below to view one of our online exhibits.
A look at a national tragedy that touched the lives of Sudbury residents twenty years ago. In collaboration with the 9/11 Memorial Garden Committee.