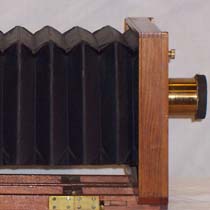 Hattie Goodnow's Putnam Marvel 5x8 Plate Camera, c1895

Sudbury Historical Society Collection
Virtual Sudbury
Talking Tour of Sudbury
Driving Tour of Sudbury
Voices of Sudbury
Online Exhibits
Video Programs
Newsletters
Driving Tour of Sudbury
Welcome to the Society's pictorial tour of Sudbury. You can take the tour from the comfort of your own home or you can drive the route and visit the locations.
This tour covers thirty five historic Sudbury sites throughout the town. The tour will take you about 3 hours with a mix of driving and walking.
You can also use our printable version of the tour.
The tour can also be found on Google Maps at Google Maps: Sudbury Tour.
The tour was originally written by Town Historian Curt Garfield for the Town of Sudbury. The following members of the Historical Society prepared this revised version of the tour:
Terry Keeney, research, photography, primary author
Lee Swanson, primary research
Dr. Tony Howes, research and editing
Chuck Zimmer, mapping
Margaret Fredrickson, Debbie Keeney and Bill Andreas, editing and production
If you have changes, corrections and suggestions on the tour, please email them to us at info@sudbury01776.org (click here to launch email).
Contents of the Driving Tour