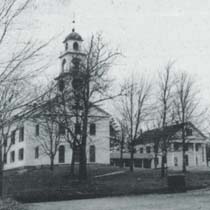 Sudbury Center, c1907

Real-photo postcard published by E. L. Fisher
About Us
Who We Are
Visit Us
Contact Us
Visit Us
Hours
We are thrilled the doors of the new Sudbury History Center and Museum are now open to the public.
Operating Hours are: Monday-Friday 10am-4pm, Saturday 1pm-4pm, and closed on holidays.
The use of masks is required for all indoor spaces in the town of Sudbury. Social distancing in the galleries is also encouraged when visiting the museum and gift shop.
If you have any questions on booking your tour please contact Rachael Robinson at 978-443-3747 or by email at director@sudbury01776.org. We look forward to seeing you in person soon!
Directions
The Society is located in the Loring Parsonage at 288 Old Sudbury Road next to Town Hall in Sudbury Center.
The entrance is on the rear of the building off the Town Center parking lot.