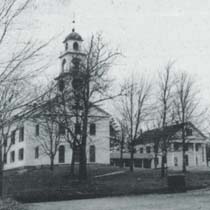 Sudbury Center, c1907

Real-photo postcard published by E. L. Fisher
About Us
Who We Are
Visit Us
Contact Us
Our Community Partners
Visit Us
Hours
The Society is open weekdays (Monday to Friday) between 8:30 AM and 4:30 PM (except holidays). While our director, historian, and other members of the Society are usually in the building during these hours, we recommend you call ahead (978-443-3747) to ensure someone is available.
There is no admission fee but a donation is always welcome. We do charge $20 per hour for research for non–members; there is no charge for research for members.
Note that only a small percentage of the Society's collections are arranged in exhibition displays. With advance notice, our historian or director will be happy to arrange a tour through the collection for individuals and groups.
Directions
The Society is located in the Second Floor of Town Hall in Sudbury Center at the intersection of Old Sudbury Road (Rte 27) and Concord Rd.
The entrance is on the right side of the building (when facing the building). Note that the stairwell to the second floor is not wheelchair accessible. There is ample parking in the lot behind Town Hall.