Broadside dated March 31, 1893 announcing entertainment at Town Hall

Sudbury Historical Society Collection
Events
Next Events
Event Calendar
Past Events
Events Calendar
The Society hosts a series of programs from fall through spring. Programs are free to Society members. A $5.00 donation from non-members would be appreciated.
Most programs are held on Sunday at 2:00 PM in Town Hall (Sudbury Center) unless otherwise indicated.
You can view many of our earlier programs on Sudbury TV — see our video library for a listing.
Next Events
Stay tuned, our 2020 calendar of events is still being planned!
2019 Fall Event Calendar
September 14, 2019 (Saturday) 5:30 - 10:00
PM
SHS Progressive Barn Dinner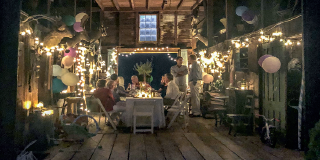 The Sudbury Historical Society presents a progressive dinner in three neighboring Sudbury barns to raise funds for the Sudbury History Center at the Loring Parsonage.
Park at the Town Center and meet at the Loring Parsonage, 288 Old Sudbury Road. Locations and details to be revealed at the Loring Parsonage at 5:30 PM. Some walking required.
Tickets $125. Order tickets by September 4, 2019 through eventbrite or by mailing a check payable to the Sudbury Historical Society to 322 Concord Road, Sudbury, MA 01776.
Space is limited to the first 100 paid respondents. Sold Out. Questions? Contact Rebecca Weeks at rebeccaweeks22@gmail.com.
September 21, 2019 (Saturday) 11:00
AM

- 2:00

PM
Sudbury Doing Good Community Info Fair
At the Goodnow Library.
Meet the folks behind Sudbury's Nonprofits, Community Groups and Town Departments who are "doing good" in every area that impacts our community: social services, arts and culture, the environment, health, safety, education, and more. Drop by for a fun, family-friendly afternoon featuring activities, volunteer and community service opportunities, information sharing, and giveaways. Get Involved in Doing Good! This event is FREE!
September 28, 2019 (Saturday) 10:00
AM

- 4:00

PM
Colonial Faire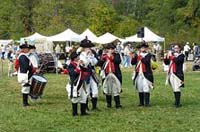 Activities at the 2017 Colonial Faire At Longfellow's Wayside Inn. Sponsored by the Sudbury Companies of Militia & Minute and the Sudbury Ancient Fyfe and Drum Companie.
In reenacting the fall muster, in the morning, there will be a demonstration of contra dance, drills by militia and the installation of officers of the Sudbury Militia. In the afternoon, the air will be filled with the sounds of fyfes and drums. Throughout the day, there will be living history demonstrations of life in colonial New England and vendors selling their wares and refreshment. Admission is $2 per adult, children get in free. See here for more details.
October 6, 2019 (Sunday) 1:30 - 4:00
PM
The "Two Sudburys" Tour (Sudbury and Wayland) 1639-1730
Co-hosted by the Sudbury Historical Society and the Wayland Historical Society. Gather at Sudbury Town Hall (322 Concord Road) for a narrated bus tour of colonial-era Sudbury and Wayland. Stops include the Four-arch (Town) Bridge on the Sudbury River; North Cemetery; Mill Pond; the sites of the fourth and fifth (present) meeting houses (what would become East Sudbury in 1780 and Wayland in 1835); and finally to present-day Sudbury Center. Refreshments follow at the Sudbury Town Hall courtesy of the SHS. Seating is limited to 45 people.
To reserve seats ($10.00 each) e-mail Jane Sciacca at jane_sciacca@hotmail.com by Friday, September 27. Payment due at the door, cash or check payable to the Wayland Historical Society. Rain or shine. Check-in at 1:30 pm; bus departs at 2:00 pm.
October 19, 2019 (Saturday) 10:00
AM
Walking Tour of Wadsworth Cemetery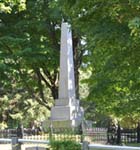 At Wadsworth Cemetery, 74 Concord Road.
Tour guide Elin Neiterman will talk about the battle that was fought here in 1676 during the King Philip War, how the cemetery became a burial ground, and how this quiet sanctuary evolved and is maintained. Learn about burial sites of some of Sudbury's notable citizens, memorial art and architecture, and burial customs.
This year the tour will be enhanced with appearances from special guests from veterans' groups, the Sudbury Companies of Militia and Minute, and costumed interpreters portraying some of Sudbury's former residents.
Free for SHS Members, $5 for non-members.Parking is available at the cemetery.
November 1, 2019 (Friday) 7:30
PM
Musicians of the Old Post Road Concert, "Harmony at Home"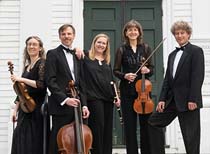 At First Parish of Sudbury, 327 Concord Road.
The fascinating musical relationships within two musical families are explored in diverse works in intimate chamber music settings. Siblings Felix and Fanny Mendelssohn were inseparable throughout their lives while husband and wife Jan Ladislav and Sophia Corri Dussek's marriage was a short-lived love affair. Program includes Felix's Mendelssohn's Piano Trio no. 1 in his own arrangement for flute, cello, and piano, Fanny Mendelssohn's Adagio for violin and piano, J.L. Dussek's Piano Trio in E Minor, op. 2, and Sophia Dussek's Flute Sonata no. 1.Contact Musicians of the Old Post Road at www.oldpostroad.org for tickets. Additional parking available at the Town Hall lot.
November 3, 2019 (Sunday) 2:00 - 4:00
PM
Margaret Fredrickson Memorial Lecture: Letters from Sudbury, A History of the Postal Service
At Sudbury Town Hall, 322 Concord Road.
Speaker Steven Greene will trace the history of the various post office locations in South Sudbury, Sudbury, and North Sudbury from 1832 to the present. Examples of mail from these offices reveal stories about the inhabitants and the character of the town over more than 175 years of mail service. The types of mail and postage used further explain the operation of the postal service. A special section highlights the many commemorative and event covers originating in Sudbury.
Steve, a teacher for 44 years in Lincoln, has always had an active interest in the history of mail. He was proprietor of Patriot Stamps, a part time shop in West Concord, from 1974 to 1981, during which time he produced nine cachet designs for the Lexington-Concord first day covers in 1975. He resides, with his wife Ruth, in North Sudbury where for 25 years he has sold perennial plants.
December 7, 2019 (Saturday) 4:30 - 6:00
PM
Town Tree and Menorah Lighting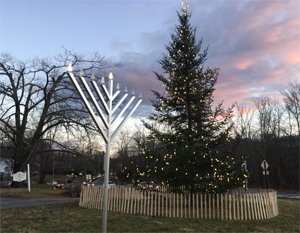 At Sudbury Town Hall, 322 Concord Road.
Carol Sing at 5:45 on the Town Hall steps. Vist with Santa and Mrs. Claus at the Presbyterian Church. For all the events see Activities and Venues 2019 Tree Lighting.
December 4-8, 2019 (Wednesday-Sunday)
Loring Parsonage Festival of Wreaths
At the Loring Parsonage 288 Old Sudbury Road.
Wednesday, December 4, 4:00-6:00pm (children's programming and story time)
Thursday, December 5, 12:00-4:00pm
Friday, December 6, 4:00-7:00pm
Saturday, December 7, 12:00-4:00pm
Sunday, December 8, 12:00-3:00pm
Sunday, December 8, 5:00-7:00pm (reception, ticket required)
Come preview the Loring Parsonage, enjoy some holiday cheer and bid on a wreath donated by one of Sudbury's own! The Historical Society is collecting hand-made wreaths from local businesses and community members. These wreaths will be on display in the Parsonage during the week leading up to the party (December 4th - 8th) and sold at silent auction to benefit the SHS. The auction ends during the cocktail party, so make sure you're there to place the winning bid on your favorite holiday wreath!
Tickets are $25 per person available at eventbrite.com or at the door.
December 19, 2019 (Thursday)
Holiday Market Benefit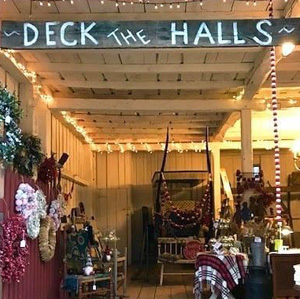 At the 29 Hudson Road, Sudbury.
On Thursday, December 19th, make sure to stop by the Sudbury Art Associations Holiday Market to shop the numerous artisans unique handcrafted wares. Make sure to mention the SHS and a percentage of your purchase will be donated to the Sudbury Historical Society.
December 12 - 24, 2019
Bark & Blossoms Benefit
At Bark & Blossoms at the Wayside Inn, Sudbury.
Shop local this Holiday season! At Bark & Blossom at the Wayside Inn, there are lots of beautiful wreaths to choose from; boxwood, balsam and Fraiser fir! They also have fresh cedar roping, luxury cut greenery and winterberries. A portion of all greenery sales will be donated to the Sudbury Historical Society!