Broadside dated March 31, 1893 announcing entertainment at Town Hall

Sudbury Historical Society Collection
Events
Next Events
Event Calendar
Past Events
Events Calendar
The Society hosts a series of programs throughout the year, with new ones being added to the schedule all the time. Fee's vary depending on the program, and discounts are provided for members of the society.
Programs are held in person unless otherwise specified, and locations will vary between the Sudbury Historical Society History Center & Museum and Town Hall.
To purchase tickets for Sudbury Historical Society events on Eventbrite please visit our Sudbury Historical Society's
page.
Next Events
Saturday December 2, 2023 10:00
AM

- 2:00

PM
Sudbury Holiday Village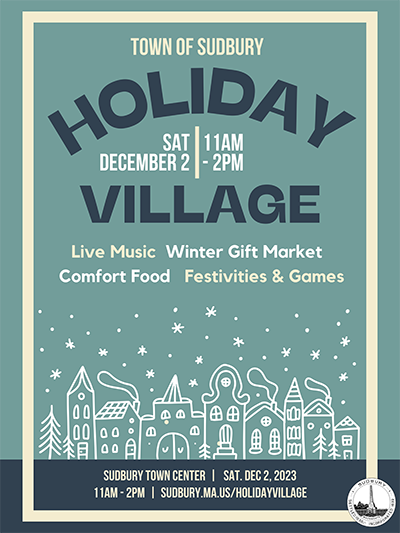 At Sudbury Town Center.
Mark your calendars for the Town of Sudbury's annual Holiday Village. The SHS will once again be participating with our annual Festival of Wreaths.
For more info: Sudbury Holiday Village.
.
Recent Events
Thursday April 27, 2023 7:00
PM
Ed Kreutz Presents Revolutionary War Firearms
At the Sudbury History Center and online.
Join Ed Kreutz and the Sudbury Historical Society for an entertaining evening learning about Revolutionary War firearms. Ed is a gunsmith and builder of reproduction 18th-century flintlock weapons. He is also a historical researcher and re-enactor specializing in the Revolutionary War for over 45 years. During his talk he will show examples of the weapons and accoutrements used by the combative nations as well as civilian firearms of the time.
Thursday June 8, 2023 7:00
PM
Annual Meeting and Presentation Remembering the Framingham and Lowell Railroad by Steve Greene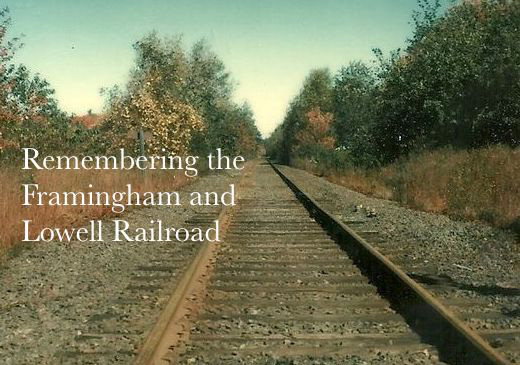 Join us for the Sudbury Historical Society's Annual Meeting, and then a presentation by Steve Greene once Board business has concluded.
Our Annual Meeting will consist of a simple vote for the slate of officers for next year and a brief discussion about our current and future Society plans.
Steve Greene will trace the history of the north-south railroad line that ran from Lowell to Framingham from its beginning in 1871 to the end of the last train in 2000. Many newly discovered photos give us an idea of how the railroad changed life for Sudbury citizens. A glimpse of features that will be visible from the completed Bruce Freeman Rail Trail will be included.
Thursday July 13, 2023 9:00
AM
Second Annual Golf Tournament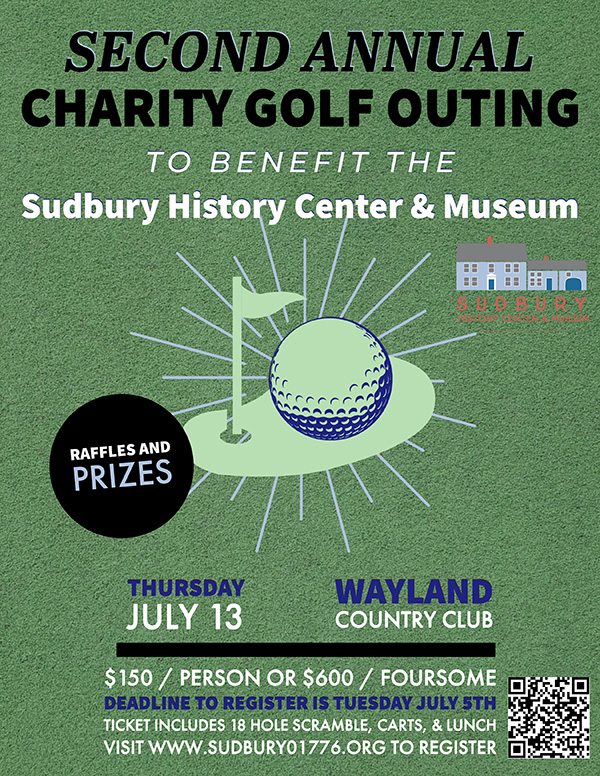 We're ready for our Second Annual Golf Tournament to benefit the Sudbury Historical Society History Center and Museum. Join us for our second year at the Wayland Country Club for a fun morning of golf, followed by lunch, drinks, and raffle prizes. Teams of up to 4 will take the course starting at 9am, with prizes for the longest drive, and closest to the hole. The cost is $150 per person Or $600 per foursome, and tickets includes 18 hole scramble, carts, and lunch. The deadline to register is Tuesday July 5th, so don't wait!
Wednesday October 18, 2023 1:00 - 2:30
PM
Pumpkin Painting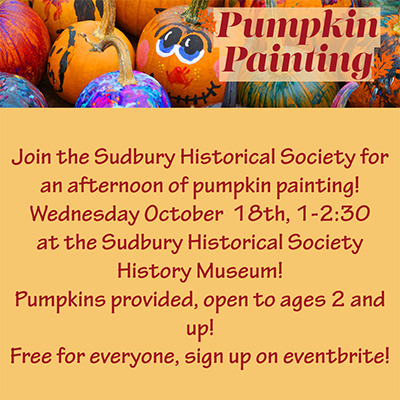 At the Loring Parsonage/Sudbury History Museum.
Join the Sudbury Historical Society for an afternoon of pumpkin painting! Wednesday October 18th, 1-2:30 PM at the Sudbury Historical Society History Museum.
Pumpkins provided. Open to ages 2 and up!
Saturday October 28, 2023 10:00
AM
Cemetery Tour
At the Revolutionary War Cemetery.
This year the Sudbury Historical Society will tour the Revolutionary War Cemetery in Town Center. Join us October 28th at 10am to learn more about this fascinating historic site and some of the individuals buried here.
Free for members, $5 for non-members. Sign up here: eventbrite.
.
Sunday, October 29, 2023, 4:00
PM
Musicians of the Old Post Road Concert: Cascading Baroque Passion
At First Parish Church and Online.
Musicians of the Old Post Road brings to in-person and online audiences Water: Cascading Baroque Passion. This performance is the opening program of the ensemble's 35th anniversary season, which explores rarely-performed works through the lens of the four classical elements: water, air, fire, and earth. Cascading Baroque Passion is an exploration of the ways "water" has influenced and inspired Baroque composers.
In-person Audience Tickets $10-$55, kids come free with an adult. Virtual Audience Tickets: $35 individual, $70 family, $10 students. SHS Members get a 10% discount. For tickets and more information see: www.oldpostroad.org.
Friday November 10, 2023 10:00
AM
Sudbury Road Race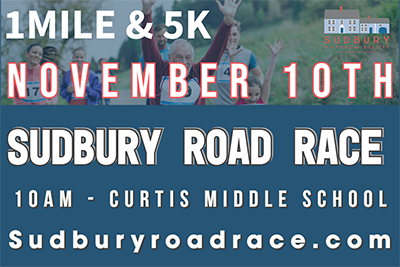 At the Ephraim Curtis Middle School.
The SHS once again is holding The Sudbury Road Race. The event includes a 5-kilometer race (walkers welcome) and a 1-mile fun run (all ages welcome). Both races begin and end at Ephraim Curtis Middle School, 22 Pratts Mill Rd. Sudbury, Massachusetts. The fun run begins at 10am, with the 5k beginning at 10:30am.
For more info and to sign up: Sudburyroadrace.com.
.