Broadside dated March 31, 1893 announcing entertainment at Town Hall

Sudbury Historical Society Collection
Events
Next Events
Event Calendar
Past Events
Events Calendar
The Society hosts a series of programs throughout the year, with new ones being added to the schedule all the time. Fee's vary depending on the program, and discounts are provided for members of the society.
Programs are held in person unless otherwise specified, and locations will vary between the Sudbury Historical Society History Center & Museum and Town Hall.
To purchase tickets for Sudbury Historical Society events on Eventbrite please visit our Sudbury Historical Society's
page.
Next Events
Thursday June 8, 2023 7:00
PM
Annual Meeting and Presentation Remembering the Framingham and Lowell Railroad by Steve Greene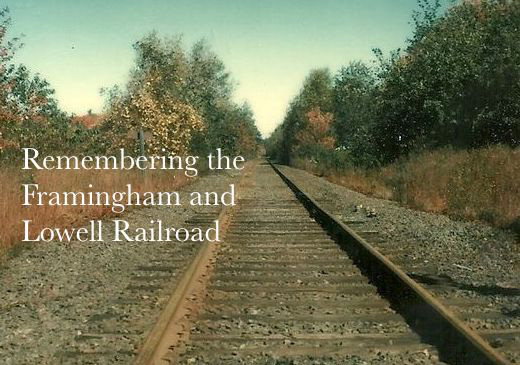 Join us for the Sudbury Historical Society's Annual Meeting, and then a presentation by Steve Greene once Board business has concluded.
Our Annual Meeting will consist of a simple vote for the slate of officers for next year and a brief discussion about our current and future Society plans.
Steve Greene will trace the history of the north-south railroad line that ran from Lowell to Framingham from its beginning in 1871 to the end of the last train in 2000. Many newly discovered photos give us an idea of how the railroad changed life for Sudbury citizens. A glimpse of features that will be visible from the completed Bruce Freeman Rail Trail will be included.
Meeting is free and both in person (at the Loring Parsonage) and online. Please register for either at eventbrite.
Thursday July 13, 2023 9:00
AM
Second Annual Golf Tournament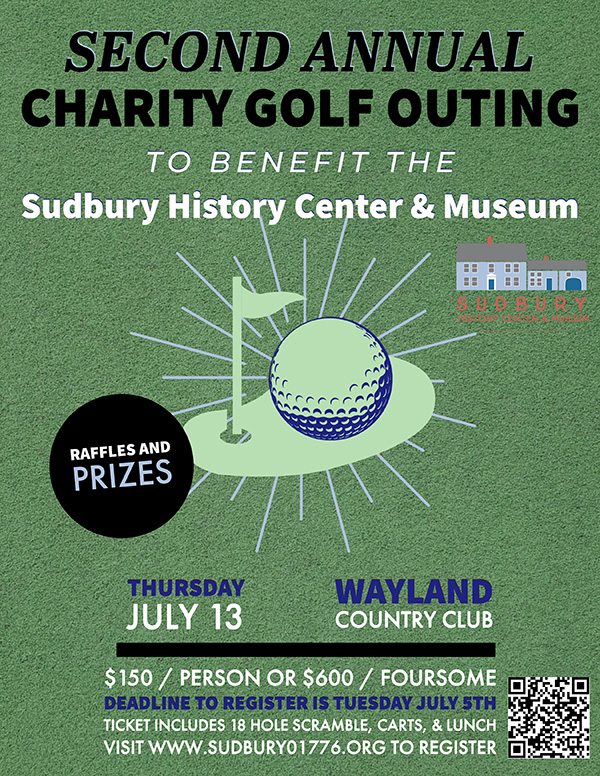 We're ready for our Second Annual Golf Tournament to benefit the Sudbury Historical Society History Center and Museum. Join us for our second year at the Wayland Country Club for a fun morning of golf, followed by lunch, drinks, and raffle prizes. Teams of up to 4 will take the course starting at 9am, with prizes for the longest drive, and closest to the hole. The cost is $150 per person Or $600 per foursome, and tickets includes 18 hole scramble, carts, and lunch. The deadline to register is Tuesday July 5th, so don't wait!
Sign up to play here: Sign Up.
For those who would like to sponsor the event, please check out our sponsorship opportunities here: Sponsor.
Recent Events
Saturday December 3, 2022 10:00 AM - 4:00 PM
Festival of Wreaths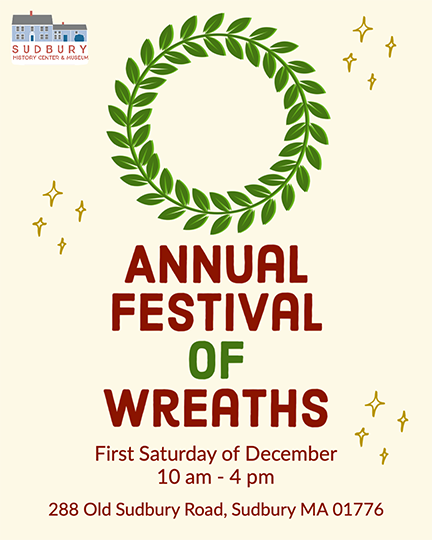 Our Annual Festival of Wreaths! Come purchase a locally sourced indoor or outdoor wreath, as well as get your holiday shopping started at our gift shop! Treats and warm beverages available, crafts for the kids, and a letter box for Santa Mail.
Saturday December 3, 2022 10:00 AM - 1:00 PM
Sudbury Holiday Village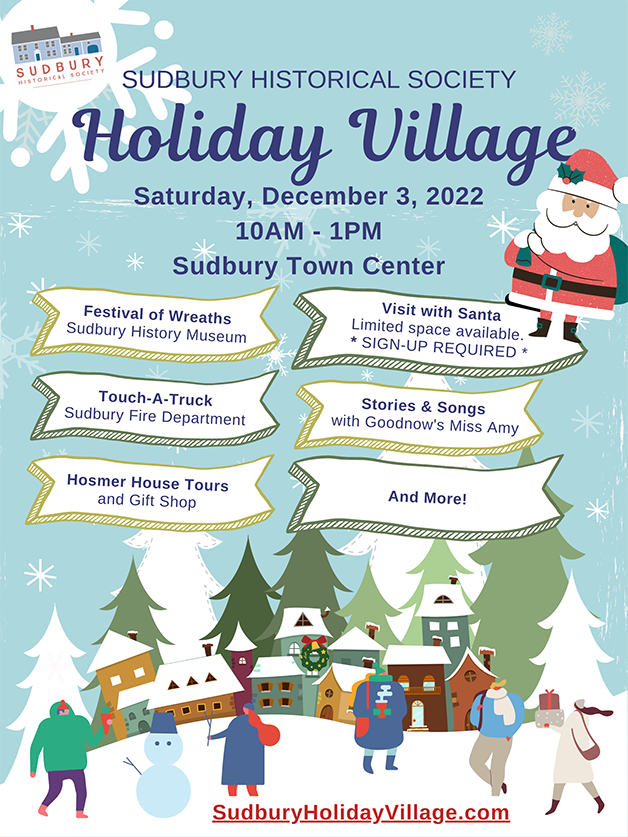 Join us for holiday cheer at the town's holiday village. Click here for all the details.
Fall 2022
Sudbury Historical Society Photography Contest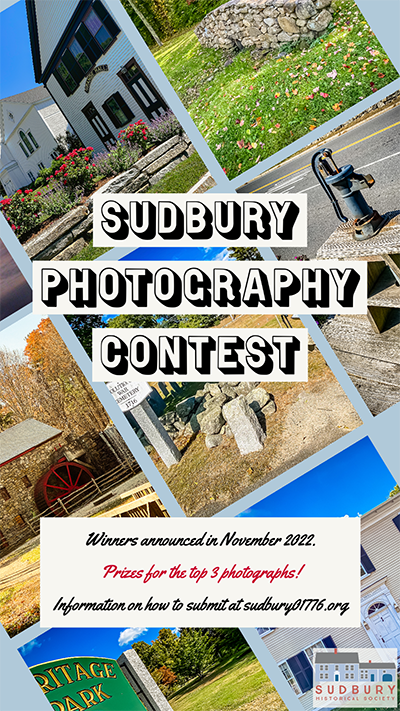 Help celebrate Sudbury by entering the Sudbury Historical Society Photography Contest!
All photographs must be submitted by November 1st, 2022. They will be printed out and displayed in the Sudbury Historical Society History Center and Museum for 2 weeks, where guests can vote for their favorite. Prizes will be awarded for the top 3 photographs!
Monday December 12, 2022 - Wednesday January 11, 2023
Winter Clothes Drive
Clean out your closet and help local families stay warm.
Stop by the Historical Society to drop off new or gently used winter items and receive a 10% discount at our gift shop. Accepting winter coats, fleece pants, sweatshirts, boots, hats and gloves to benefit adults and children in need.
Sunday March 26, 2023 2:00
PM
Broadacres Legacy, The Story of Honora Haynes
At the Sudbury History Center and On-line.
Broadacres Farm, now open space for Sudbury, was owned by Honora Hayes. But who was this person? Alice Sapienza, author of "Broadacres Legacy: The Story of Honora Haynes," will present highlights of the life of this extraordinary woman. She created and managed a successful equine business for nearly half a century and had a lasting influence on all those who came in contact with her.
Thursday April 27, 2023 7:00
PM
Ed Kreutz Presents Revolutionary War Firearms
At the Sudbury History Center and online.
Join Ed Kreutz and the Sudbury Historical Society for an entertaining evening learning about Revolutionary War firearms. Ed is a gunsmith and builder of reproduction 18th-century flintlock weapons. He is also a historical researcher and re-enactor specializing in the Revolutionary War for over 45 years. During his talk he will show examples of the weapons and accoutrements used by the combative nations as well as civilian firearms of the time.