Broadside dated March 31, 1893 announcing entertainment at Town Hall

Sudbury Historical Society Collection
Events
Next Events
Event Calendar
Past Events
Events Calendar
The Society hosts a series of programs throughout the year, with new ones being added to the schedule all the time. Fee's vary depending on the program, and discounts are provided for members of the society.
Programs are held in person unless otherwise specified, and locations will vary between the Sudbury Historical Society History Center & Museum and Town Hall.
To purchase tickets for Sudbury Historical Society events on Eventbrite please visit our Sudbury Historical Society's
page.
Next Events
Sunday March 26, 2023 2:00
PM
Broadacres Legacy, The Story of Honora Haynes
At the Sudbury History Center and On-line.
Broadacres Farm, now open space for Sudbury, was owned by Honora Hayes. But who was this person? Alice Sapienza, author of "Broadacres Legacy: The Story of Honora Haynes," will present highlights of the life of this extraordinary woman. She created and managed a successful equine business for nearly half a century and had a lasting influence on all those who came in contact with her.
Free for SHS Members, $5 for non-members. Tickets available at Eventbrite.
Recent Events
Saturday February 12, 2022
Musicians of the Old Post Road Concert: Sites and Sounds of Early Sudbury
Online concert.
Musicians of the Old Post Road teams up with the Sudbury Historical Society to explore some of history-rich Sudbury's most fascinating historical sites. Historical Society members offer brief talks at each location, providing a richer understanding of each site's history and key personages in Sudbury's past. The ensemble performs modern-day premieres of fascinating, rediscovered works by 18th-century Massachusetts composers and arrangers at each site, bringing this history to life.
In this online presentation-performance, MOPR's musicians are joined by members of the Sudbury Historical Society to give an informative tour of some of Sudbury's fascinating sites of historical significance. Locations include the Loring Parsonage (now home to the Sudbury History Center and Museum), Revolutionary War Cemetery, Hearse House, Town Pound, Hosmer House, First Parish, Rice Tavern site, and Wayside Inn.
Saturday February 26, 2022 6:00
PM
Berwick Fiddle Consort
At the Loring Parsonage.
Join us as we welcome the Berwick Fiddle Consort to the Sudbury Historical Society History Center and Museum for a special performance!
Comprised of musicians with deep roots in historical performance practice, the Berwick Fiddle Consort (BFC), founded by violinists Lydia Becker, Julia Connor, Sarah Douglass and Anna Maberry, brings an historically informed lens to bear on traditional fiddle music.
Saturday May 14, 2022 10:00
AM

- 4:00

PM
Sudbury Historical Society History Center and Museum (delayed) Grand Opening!
Come to a fun open house to celebrate the opening of the Sudbury Historical Society History Center and Museum! We will have food trucks, kids' activities, and games!
Tuesday July 5, 2022
Berwick Fiddle Consort Concert
We are so excited to welcome back the Berwick Fiddle Consort to the Sudbury Historical Society for another rousing evening of fabulous fiddle music! Join us Tuesday, July 5th, at 6pm.
Thursday July 14, 2022
Sudbury Historical Society Golf Outing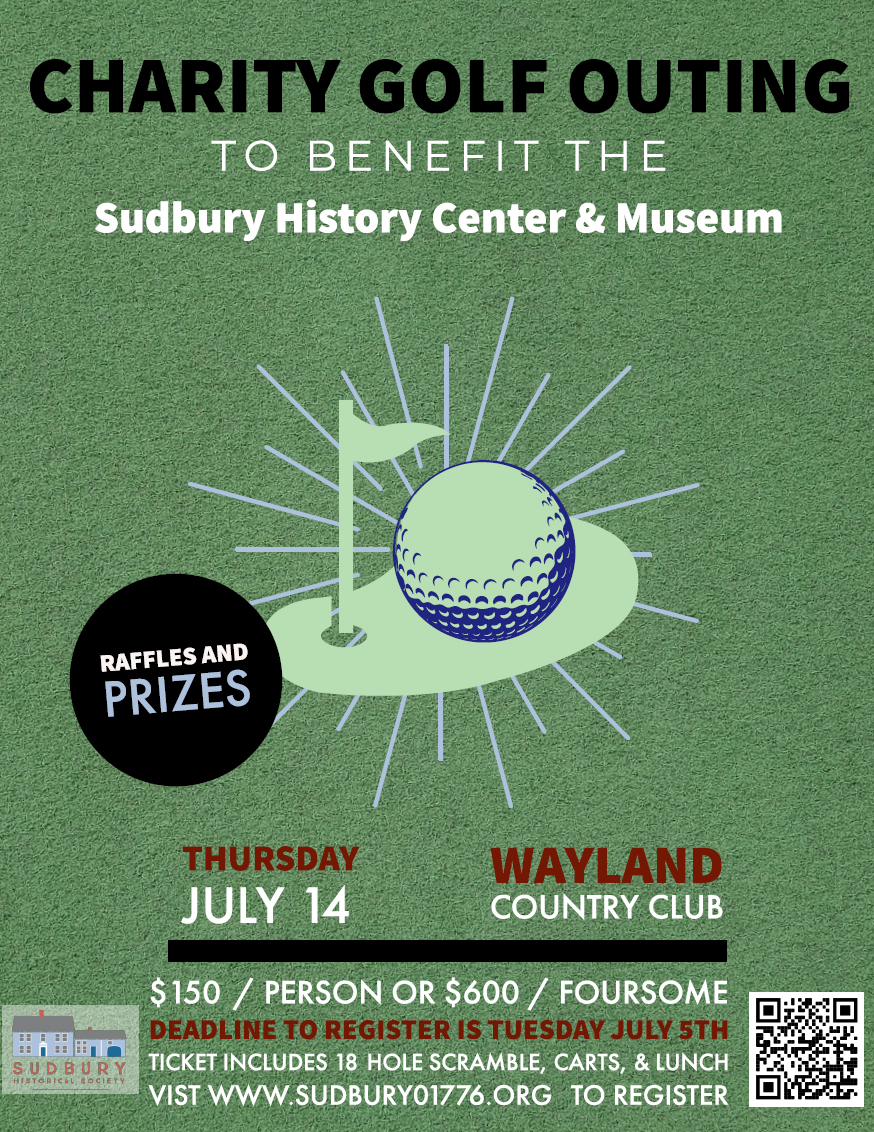 Join the SHS for an exciting new event, our first annual Charity Golf Outing benefiting the Sudbury History Center & Museum. Hosted on July 14th, at 10am, at the Wayland Country Club. This is scramble style with teams of 4. $150 per person, or $600 per team, includes course fees for 18 holes, lunch, and a cart. There will be raffle prizes, as well prizes for closest to the pin, longest drive in the fairway, straightest drive, and more!
Thursday September 22, 2022 7:00 PM
Online and In-Person Lecture: King Philip's War and The Sudbury Fight
Join us in person at the SHS or online on September 22nd as public historian Richard Smith presents his lecture on "King Philip's War and The Sudbury Fight."
King Philip's War is considered by many historians to be the deadliest war in Colonial American history. In the space of little more than a year, 12 towns were destroyed, the colonial economy was all but ruined and the population was decimated. Sudbury itself was the scene of a brutal battle in April 1676 between the town's Puritan settlers and the area's Nipmuc warriors.
Yet, few people outside of New England know about King Philip's War. More than 2,500 colonists died, while at least twice as many Native Americans were killed; the war effectively ended Native American resistance in New England. Public historian Richard Smith will discuss the causes of the war, how it affected both the colonists and indigenous people of Sudbury, and the ramifications of what has been called the greatest calamity in seventeenth-century New England.
Richard Smith is a public historian in Concord, Massachusetts and has written six books for Applewood Books. He has lectured on and written about 17th, 18th and 19th Century United States history, Transcendentalism, and 19th-century American literature since 1995.
Saturday October 15, 2022 11:00 AM
Wadsworth Cemetery Tour
Join us on October 15th at the Wadsworth Cemetery when Vice President of the SHS, Elin Neiterman, will provide you with the interesting history of this cemetery and how it has evolved to the beautiful local landmark it has become.
She will then lead participants to the monument that was dedicated in 1852 to the soldiers who were casualties of the King Philip War in 1676. The tour continues with visits to the graves of some of Sudbury's notable citizens: Florence Hosmer, Jerusha Howe, George Moore, Israel Brown and several others.
We are hopeful that a few more local spirits will be visiting us this year to tell us their stories.
Wednesday October 19, 2022 2:00 - 3:00 PM
Children's Craft Event - Pumpkin Painting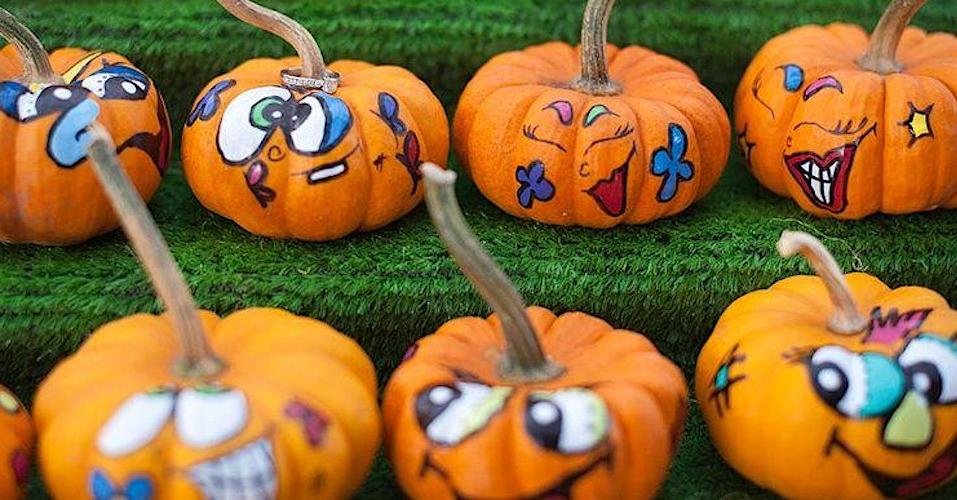 Join us for some children's craft time, pumpkin painting! We grew lots of pumpkins in our 3 Sisters' Garden, and they are ready to be painted.
This event will take place on October 19th, 2-3pm at the Loring Parsonage and each child gets at least 1 pumpkin to paint and take home with them.
Open to ages 4 and up, a parent must stay with children under the age of 7.
Saturday October 29, 2022 4:00 PM
Concert with Musicians of the Old Post Road: Masterful Madames
Join us on October 29th at First Parish for our collaborative concert with Musicians of the Old Post Road.
Master Madames: Women composers in the Circle of Frederick the Great celebrates three fabulous forgotten female composers: Princesses Anna Amalia and Wilhelmine of Prussia, and Anna Bon. Experience their wonderful chamber music alongside works by other composers in Frederick the Great's circle, including the music-loving king's flute teacher J. J. Quantz and his concertmaster Franz Benda.
Tickets are available at oldpostroad.org. SHS members use code 'SHS' to get $10 off of your tickets!
Friday November 11, 2022 9:00 AM
Sudbury Road Race
Join us for our first annual Sudbury Road Race, held November 11th, 2022 at 9am at the historic Wayside Inn. Cost is $15 for 1 mile participants, and $30 for 5k participants. Discounts available for armed service members and veterans. All ages and walkers are welcome for both events.
Please see here further details and how to sign up: here.
Sunday November 20, 2022 2:00 PM
Discovering the Henry Knox Trail
Steve Glovsky presents on the topic of the Henry Knox Trail and the markers that were erected in 1926 to commemorate the 150th anniversary of Knox's march.
Tickets are available at EventBrite.
Saturday December 3, 2022 10:00 AM - 4:00 PM
Festival of Wreaths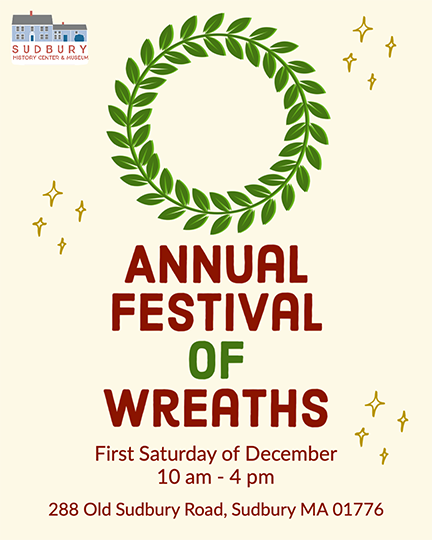 Our Annual Festival of Wreaths! Come purchase a locally sourced indoor or outdoor wreath, as well as get your holiday shopping started at our gift shop! Treats and warm beverages available, crafts for the kids, and a letter box for Santa Mail.
Saturday December 3, 2022 10:00 AM - 1:00 PM
Sudbury Holiday Village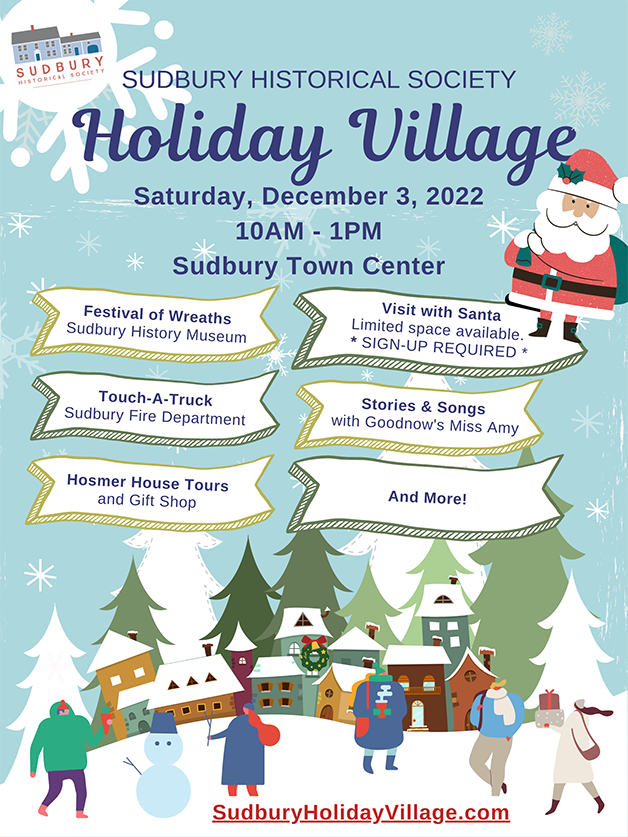 Join us for holiday cheer at the town's holiday village. Click here for all the details.
Fall 2022
Sudbury Historical Society Photography Contest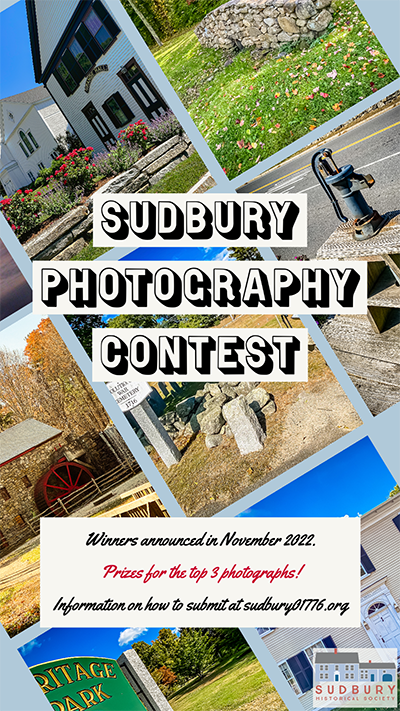 Help celebrate Sudbury by entering the Sudbury Historical Society Photography Contest!
All photographs must be submitted by November 1st, 2022. They will be printed out and displayed in the Sudbury Historical Society History Center and Museum for 2 weeks, where guests can vote for their favorite. Prizes will be awarded for the top 3 photographs!
Monday December 12, 2022 - Wednesday January 11, 2023
Winter Clothes Drive
Clean out your closet and help local families stay warm.
Stop by the Historical Society to drop off new or gently used winter items and receive a 10% discount at our gift shop. Accepting winter coats, fleece pants, sweatshirts, boots, hats and gloves to benefit adults and children in need.