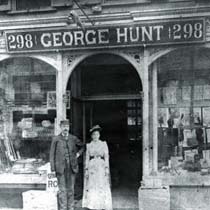 South Sudbury, Hunt's Store, Boston Post Road, c1885

Sudbury Historical Society Collection
The SHS Shop
Shop Highlights
How To Order
Books for Sale
Maps for Sale
Other Items for Sale
Shop Highlights
The Society's most recent publication is now available!
Images of America: Sudbury
by the Sudbury Historical Society Inc.
Published: 11/05/2012 by Arcadia Publishing
Pages: 128
ISBN: 978-0738597546
Available from the Society's Store and other retailers.
The Sudbury Historical Society has selected some of the best images from its extensive photographic archives to remember the past days and character of Sudbury. See Sudbury's history between 1850 and 1950 in these never before published pictures of the town's people, places, sacred spaces, agriculture, recreation, military and celebrations.
Sudbury, located 20 miles west of Boston, was incorporated in 1639. It has a rich, unique history as one of the first colonial settlements. In 1676, it was the site of one of the major battles of the Indian War, called King Philips War. In 1775, Sudbury sent more than 350 men to Concord to stand up for liberty against the British. Once known as the carnation capital, Sudbury still has two of the largest wholesale greenhouses in the state. Historic landmarks, including Longfellows Wayside Inn — made famous under the ownership of Henry Ford from 1923 to 1945 draw thousands of tourists every year. The town attracts residents because of its natural beauty, stone walls, scenic roads, and history. Sudbury remained a small agricultural town until the 1950s and has become a desirable suburban town known for its excellent schools, attractive homes, and community spirit.
The Images of America series by Arcadia Publishing chronicles the history of small towns and downtowns across the country. Each title features more than 200 vintage images, capturing often forgotten bygone times and bringing to life the people, places, and events that defined a community.