Sign from Pratt's Mill formerly on Dutton Road

Sudbury Historical Society Collection
News
Recent News
Older News
Recent News
Check out our Facebook page for the latest news from the Sudbury Historical Society. Here are excerpts from some of our recent posts.
Pokemon In Historic Sudbury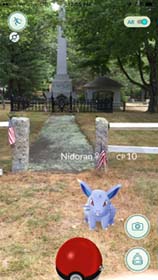 Pokemon in Wadsworth CemeterySudbury Historical Society, Inc. 2016Catch a Pokemon in Historic Sudbury! Many of Sudbury's historic sites are just brimming with Pokemon. You can start at the Wadsworth Cemetery on Concord Road which has a Nidoran and a Pokemon Training Center
For an entertaining afternoon take either our audio tour of Sudbury Town Center or our driving tour of Historic Sudbury and see how many Pokemon are in residence at some of Sudbury's historic sites.
Kidstory: Baseball
KIDSTORY: Katina Fontes talks to kids about Sudbury BaseballSudbury Historical Society, Inc. 2016Our Kidstory programs this summer have been a great success. Most recently we had a great time on July 27th learning about Sudbury's baseball history, including the great Babe Ruth! Mark your calendars for our next Kidstory program on Wed, August 10. The focus will be colonial architecture.
Second Place in Family & Friends Division!
Second Place!Sudbury Historical Society, Inc. 2016The Society's float in this year's 4th of July parade was awarded the second place prize in the Family & Friends Division. Many thanks to Elin Neiterman, Jackson Hild, Beth Gray-Nix, Stewart Hoover, Ursula and Frank Lyons, and Jane Kline (not pictured) for all of their efforts to make the float and marching a success!
The Sudbury Historical Society float and members, July 4th, 2016Sudbury Historical Society, Inc. 2016