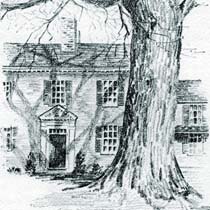 Etching from "Old Sudbury"

Pinkham Press, Boston, MA, 1929
Sudbury History Center/Museum
About The History Center
Museum Exhibits
Restoring The Parsonage
Donate to the History Center
Donate to Building the History Center and Museum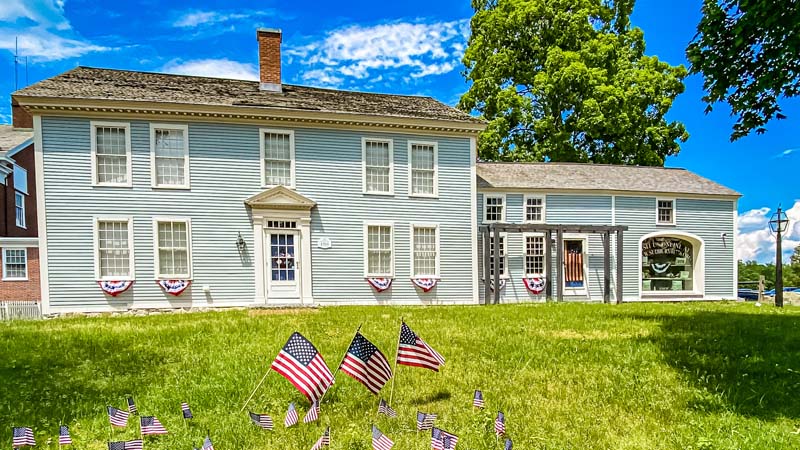 The Loring Parsonage in July 2021

Sudbury Historical Society
We are a non-profit organization that depends on memberships and donations to perform our mission of preserving, celebrating and sharing Sudbury's history. Building the History Center is our most ambitious project do date and to make it a core part of Sudbury's culture requires a lot of money. Please consider helping us build this centerpiece of Historic Sudbury's Town Center.
The Society is a 501.3c non-profit organization so your donation is tax-deductible. Your contribution goes directly to funding our our work, only a very small fraction of your donation goes toward administrative costs.
If you have any questions, are interested in making a special bequest, would like to discuss naming rights, have special conditions you'd like to attach to your donation, please contact the Society by email, phone (978-443-3747), or stop by during our normal hours.
Donate Online
You can donate online with a credit card or Paypal account by clicking the Donate button below. Supply the amount and any special instructions in the secure order form. Please make sure to indicate you'd like this donation to support the History Center.
Your donation is tax-deductible and we appreciate your support!
Donate By Mail
Please make your check payable to the "Sudbury Historical Society" and include a note with your name, address, phone number, and e-mail address so we may acknowledge your donation.
Mail your check to:
The Sudbury Historical Society, Inc.
288 Old Sudbury Road
Sudbury, MA 01776-1850
Naming Opportunities at the Sudbury History Center
Add your name to Sudbury's History! All major donations will be permanently recognized at the Sudbury History Center. Here's a list of some of the opportunities to add your name to Sudbury's History:
First Floor
$20,000 – Visitor's Center – First Floor. Includes point of welcome, ticket sales, gift shop, information station for History Center and Town of Sudbury, lift access point, accessible restroom and kitchenette.
$5,000 – Intepretive Nook – An historic shelving feature found intact between the West and Northeast galleries will serve as a unique display case.
$2,500 each – Exhibit display cases (several available).
Second Floor
$15,000 – Special collections library/archival storage room.
$10,000 - Upstairs Hall – Archival storage/visible storage display, lift access point.
$10,000 – West Chamber – SHS Offices.
Accents
$100 – "Have a Seat" Folding Chairs for the West Gallery.
$50 – Archival storabe box with recognition nameplate.
$100 and up – Collection Preservation Fund or General History Center Fund.
Already Sponsored
$100,000 – West Gallery – Multi-purpose rotating exhibition gallery and program space/event hall. SPONSORED!
$50,000 – Southeast Gallery – Introduction to Sudbury, semi-permanent exhibition gallery. SPONSORED!
$50,000 – Southeast Meeting Room – Board room and researcher space. Available for use by various community groups. SPONSORED!
$50,000 – Herb Garden & Interpretive Landscape at the Loring Parsonage. SPONSORED!
$50,000 – ADA-compliant lift. SPONSORED!
$25,000 – Arched glass window. SPONSORED!
$250 - "Step in the Right Direction" Staircase Treads - Help advance the SHS's goals by naming your very own step on the staircase in the new addition. SPONSORED!